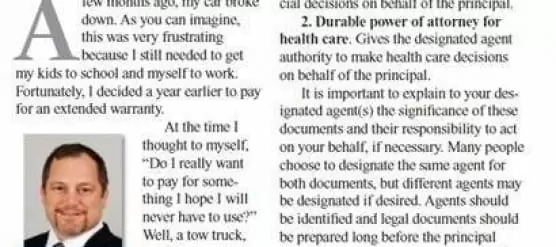 This article was originally published in the August/September 2017 issue of Kern Business Journal.
A few months ago my car broke down. As you can imagine, this was very frustrating because I still needed to get my kids to school and myself to work.  Fortunately, I decided a year earlier to pay for an extended warranty. At the time I thought to myself, "Do I really want to pay for something I hope I will never have to use?" Well, a tow truck, a rental car, a new transmission, a new thermostat, and a new water pump later I was sure glad I made the investment.
Our bodies are a little bit like cars. Eventually, some parts may start to wear down, but with modern advances in medicine and technology, many of us are living longer than the generations that preceded us. An unexpected consequence arising from longer life spans is that now it is possible for our bodies to outlive our minds.
Fortunately, Durable Powers of Attorney can be created as a layer of protection if a person is unable to make good decisions and competently handle their affairs. These documents allow that person, named the "principal" in Durable Power of Attorney documents, to grant a trusted agent the authority to handle legal matters on their behalf. In doing so, they prevent the need for lengthy and expensive court proceedings associated with the creation of a conservatorship.
There are two primary types of Durable Powers of Attorney that are executed as part of a comprehensive estate plan:
Durable Power of Attorney for Asset Management gives the designated agent authority to make legal and financial decisions on behalf of the principal.
Durable Power of Attorney for Health Care gives the designated agent authority to make health care decisions on behalf of the principal.
It is important to explain to your designated agent(s) the significance of these documents and their responsibility to act on your behalf, if necessary. Many people choose to designate the same agent for both documents, but different agents may be designated if desired. Agents should be identified and legal documents should be prepared long before the principal starts facing challenges handling certain aspects of life.
Durable Powers of Attorney can provide trusted agents and families with guidance on a number of issues including the management of assets and guidance for medical professionals on the principal's care preferences. They can also cover important areas such as retirement plan elections and continued receipt of insurance benefits. A comprehensive estate plan with proper Durable Powers of Attorney in place can protect your assets from unnecessary taxation and allow you to provide gifts in a timely manner to your intended heirs.
Like an extended warranty for your car, a Durable Powers of Attorney as part of your estate plan can provide peace of mind for you and your family because of the protection they provide for you, your heirs, and the assets you've worked so hard to save.
Kevin M. Danley is an attorney at The Law Offices of Young Wooldridge, LLP who focuses his practice on estate planning and probate, will and trusts, as well as business formation, contracts and transactions.