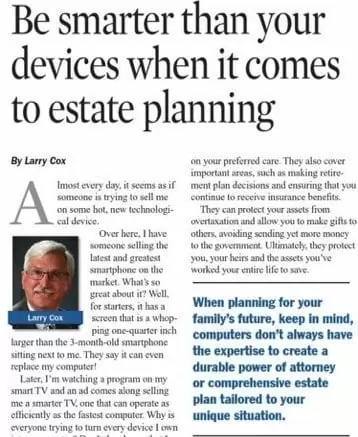 This article was originally published in the October/November 2015 issue of Kern Business Journal.
Almost every day, it seems as if someone is trying to sell me on some hot, new technological device. Over here, I have someone selling the latest and greatest smartphone on the market. What's so great about it? Well, for starters, it has a screen that is a whopping one-quarter inch larger than the three-month-old smartphone sitting next to me. They say it can even replace my computer! Later, I'm watching a program on my Smart TV and an ad comes along selling me a Smart-er TV, one that can operate as efficiently as the fastest computer. Why is everyone trying to turn every device I own into a computer…don't they know that I have an actual computer for that?
The era of technological innovation that we live in has many people demanding the best of everything. Luckily, these advancements have not been limited to the world of consumer products. People are living longer and healthier lives today, thanks to technological development in the field of medicine. Quite impressive, but it's important to be aware that with advancement can come unforeseen consequences. As an Estate Planning Attorney, a major consequence I frequently see is that now our bodies often outlive our minds.
Decades ago, there was little that could be done for a person whose body outlived their mind. In almost every case, the remedy was extensive – and expensive – court proceedings. They are called conservatorships and still exist today, however, proceedings can be long, emotionally painful and often result in more chaos than progress. Ultimately, through the efforts of attorneys, we were able to expand upon the principle of the power of attorney concept brought over from England prior to the American Revolution. Now, with a properly prepared Durable Power of Attorney, a person can grant a trusted agent the right to handle legal matters, before they are unable to do so for themselves.
Today, Durable Powers of Attorney provide guidance on a number of issues to the selected advocate. They can outline how to guide your medical professionals on your preferred care. They also cover important areas such as making retirement plan decisions and ensuring that you continue to receive insurance benefits. They can protect your assets from over taxation and allow you to make gifts to others, avoiding sending yet more money to the government. Ultimately, they protect you, your heirs and the assets you've worked your entire life to save.
I've seen over the years that people are recognizing the importance of planning for the time when your mind isn't keeping up with your body. However, another unforeseen consequence of this technological era is the emergence of online legal forms. When we are used to information we need being a click or the tap of the fingertip away, it's quite easy to turn to the computer or one of the aforementioned devices trying to replace it, to complete a variety of legal documents these days. Though these documents may seem revolutionary, typically they are anything but. Most online estate planning documents that I see are poorly written, vague and not generally sufficient. They may not be tailored for your state's laws, may not include provisions for your business to be properly handled and could even provide for heirs that you did not intend. Most often, the canned online documents result in higher legal fees for correction in order to make them enforceable.
When planning for your family's future, keep in mind, computers don't always have the expertise to create a Durable Power of Attorney or comprehensive estate plan tailored to your unique situation. Be smarter than your smart device and consult an attorney when laying out your final wishes.
Larry Cox is a partner at The Law Offices of Young Wooldridge, LLP with over 30 years of estate planning experience.